About & Setup
SYSTEM OVERVIEW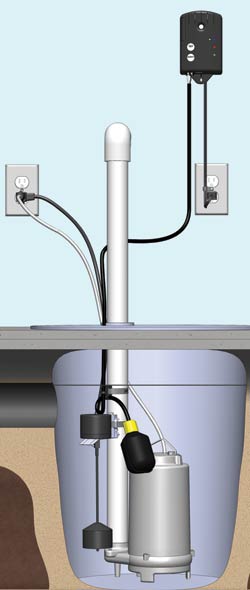 My WiFi Alarm System Overview
About My WiFi Alarm
My WiFi Alarm Provides Remote Notification 24/7
My WiFi Alarm system monitors and reports any residential alarm condition (contact closure), including sump high water level (float switch), or under/over temperature alarms. When the contact closes, the alarm notifies the user locally (audible and visual alarms) and remotely via SMS text messages and/or email over a WiFi or Ethernet network to a smartphone, tablet or computer. Text message notifications can be sent to a cell phone with an active SMS service. The horn can be silenced when the alarm is active, but the alarm light remains on until the condition is cleared. Once the condition is cleared, the alarm will automatically reset.
The alarm works with your existing WiFi or Ethernet network, so it does not rely on cellular connection which means NO monthly fees or contracts. It's an excellent solution for areas with poor cellular service. My WiFi Alarm is great for businesses, rental properties and seasonal homes to help prevent costly damage.
Product Features
NEMA 1 enclosure rated for indoor use
Automatic alarm reset
LED indicators for alarm (red), power on (green), and network status (blue)
WiFi or Ethernet connectivity for remote alarm notification
WiFi Protected Setup (WPS) push-button connect feature for simplified connection
Text and/or email notifications: alarm, power lost, power restored, low battery and alarm offline
Notifies up to 4 contacts (2 text, 2 email contacts)
If primary power fails, the alarm continues to operate locally due to 9 VDC battery backup (not included)
Low battery chirp
External terminal block for easy float switch installation
Auxiliary alarm contacts included to connect to remote device
Can serve as a high or low level alarm depending on float switch model
Optional float switch models and splice kit available
Product Specifications
Voltage: Primary: 120 VAC, 60 Hz, 2.4 watts max. Secondary: 9VDC
Battery Backup Power: 9 VDC
Alarm Enclosure: 6 x 4 x 2.25 inches (15.24 x 10.16 x 5.71 cm), NEMA 1 plastic
Alarm Horn: 87 decibels at 10 feet (3 meters)
Auxiliary Alarm Contacts: Voltage - 120 VAC; Current: 0.5 amps max NO, 0.5 amps max NC
Power Cord: 6 feet (1.8 meters)
Float Switch Connection Terminal: For float switch connection only. Do not apply power. (voltage across terminals is 8-9 VDC)
Float Switch: SJE SignalMaster® control switch with mounting clamp. Cable: 15 feet (4.57 meters), flexible 18 gauge, 2 conductor (UL) SJOW, water resistant (CPE); Float: 2.74 inch diameter x 4.83 inches long (7.0 x 12.3 cm), high impact, corrosion resistant polypropylene housing for use in sewage and water up to 140 degrees F (60 degrees C)
WiFi: Connect using push-button WiFi Protected Setup (WPS) or manually by using Ethernet connection (Ethernet cable not included)
Ethernet: Requires an ethernet connection (Ethernet cable not included)
CSA Certified
Five-Year Limited Warranty
NOTE: Cellular WiFi hotspots are not recommended for use with this WiFi alarm, as intermittent or unreliable notification service can result.